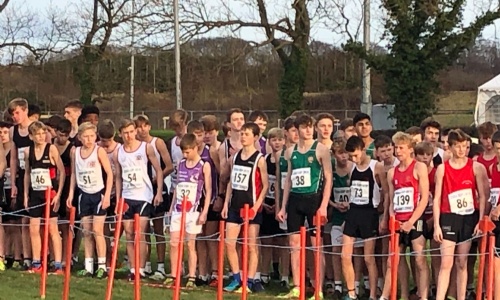 SHSB fielded two teams for the ESAA National Cross-country Finals in Derbyshire.
Congratulations to our cross-country athletes who recently competed in the National Cross Country Final. This year's competition was held in Derbyshire on a hilly and brutal course. SHSB has had at least one team in every final since 1997 - a national record!
In the Junior Boys team, individual congratulations go to Toby Cole in Year 8, who obtained a fantastic 7th place; other members of the team also ran superbly: Callum Powrie, Jacob Holling, Michael Brown, Jonmark Nwosa and Nathan Waller, to gain an overall place of 8th in the country.
The Intermediate Boys team gave an individual best to Ben Maguire in Year 10, who also gained 7th place; other members of the team: Samuel Riley, Ruben Vapiwala, Harry Richardson, Alex Hawney and Razvan Vladut performed outstandingly in an extremely competitive field to gain an overal place of 9th in the country.
These fantastic results are the result of weeks of training hard - well done to all involved and to parents for their support.
Full information is available at: http://www.schoolsathletics.net/esaa/v2/2019/xccup/xccup19results.php