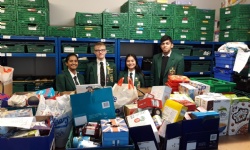 Years 12 and 13 decided they would operate a 'reverse Advent calendar' during December for charity. Each day, students brought in one item and in early January, those items were donated to Southend Foodbank.
Southend Foodbank recently wrote to thank the students:
On behalf of Southend Foodbank I am writing to thank you and all the school pupils who participated in the Christmas collection for the amazing 138.72kg of donated food and drink products.
It is very heartening to know that at this difficult time when the demand for emergency food support is rising that we have the support of the local community and in particular that of schools. Your weighted donation will help us to provide food for up to 5 families but in reality spread throughout our work will go to supporting many more.